Equalizer
YOU CAN DEFEND YOURSELF against an attacker who is larger, stronger, and much more experience in areas of violence.  And you can do so without becoming a martial arts cage fighter, a ninja, or a Navy Seal!  This is, providing you have a systematic plan designed specifically  for women.  The EqualizerXP self-defense tool & the A. R. T. of Women's self-defense is designed for that very purpose.
The harsh reality is bad things can happen to good people; and there are those in our society, who see women as weak, vulnerable targets.  These violent criminals do not live by the same rules as you, nor do they care about you, the good life you live, your future, or the lives of those who depend on you.
For this reason, Dr. Tim Derby, professional karate instructor, self-defense strategist and inventor of the EqualizerXP self-defense tool, is committed to equipping women with the skills they need to be safe and stay safe!
What can you do?
First, you can be proactive by setting your own resolve regarding your absolute refusal to be a VICTIM.
Second, you can avoid being paranoid by being prepared as you accept that your personal safety is "your" personal responsibility.
How can we help?
Dr. Derby, as well as his daughter, Ashley Derby Boyd, regularly conducts self-defense talks, as well as private self-defense seminars, for various women's groups including adult women, high-school seniors, and college groups.
AWARENESS/AVOIDANCE
The Art of Awareness is more than being conscious of your surroundings.  It is also about addressing the necessity of putting in place "pre-determined" pre-cautionary measures which will lead to avoidance (i.e. personal safety; home / dorm / apartment automobile, college campus, & personal safety.)
RESPONDING
The Art of Responding focuses on precisely how you can physically defend yourself against a much larger attacker.  Special attention is placed on learning how to "ATTACK THE ATTACKER".  Responding also involves learning how to utilize one of the most effective non-lethal self-defense tools available—the EqualizerXP.
TRAINING
The Art of Training reminds us that what we must not do is become paranoid.  What we must do is become prepared.  You will quickly learn practical real-life physical and mental drills that are designed to solidify both your physical and psychological ability to successfully defend yourself.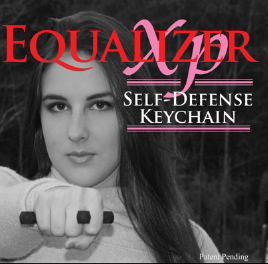 To Order the EqualizerXP or to get information regarding talks/seminars, use our contact page or contact us directly at
(662) 327-Kick (5425).